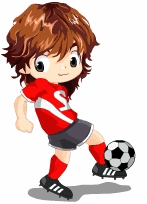 style! hebat! haha.
that was my first and my last main FUTSAL
masuk ja court tu..
BOOOOOOOO... (laki sorak)
macam gampang!
HAHA.
serius lawak kalau pompuan main futsal.
well, aku tak puas hati sangat ah sal futsal semalam.
TEAM WORK tak da beb!
though dpt no 4 kan.
main bukan mau kira MENANG maaa..
+ that was our 1st time.
main just for HAVING FUN!
tapi... :)
that's why i said. pompuan tak elok ah men bolabola ni
EMOSI tak dapat kawal!
not like guys :) ryte?
+ kalau KALAH , put the blame on others.
kalau guys :) "RILEX AH> NEXT TIME ADA LAGI :)
ryte?
p/s : JOIN MENARI LAGI BAGOS. haha

---
hanya manusia biasa
---